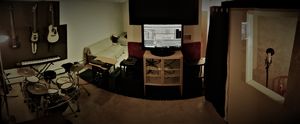 Located in beautiful North Vancouver, BC, this is where I record all of my music these days. 
 If you have a project that you would like to record (song, album, voice acting demo), give me a shout. The non-intimidating atmosphere is perfect for someone who is just starting out or wants to demo their music to shop to the industry. I can work with you using my multi-instrumental and songwriting/producing skills to help you create powerful music without breaking the bank.
 The video below, for my song 'Every Truth',  was written, performed, recorded, mixed, and mastered by me right here in the NDM studio.  Hope you enjoy and I look forward to hearing from you!
Contact me for more info: nathandownmusic@gmail.com
ND